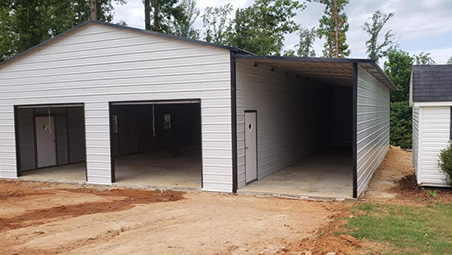 Customized Carports

Luna Metal Buildings manufactures customized carports for homes and businesses. You can use these carports to cover your car, truck, boat, or recreational vehicle. Many customers even use them to protect valuable farm equipment.
Luna Metal Buildings offers a rounded frame and A-frame carports, along with different roof styles. Find out which is right for your needs and then place your order. Everything is customized in-house, so it will be made to your specifications, down to the color of the trim.

Regular Style of Customized Carports in Asheboro

The regular roof style is available as an A-frame. The most affordable option, regular style roofs, is also the most common in the USA. The manufacturers at Luna Metal Buildings bend the metal frame to create the bow or truss on this durable carport, and the trusses are welded to prevent leaks. With regular style roofs, the panels start at the front and run to the back.
This type of carport is only recommended for buildings measuring 40 feet or less.

Vertical Roof Carports in Asheboro

The vertical roof is the strongest of all the metal roofs, and it can easily handle all weather conditions that your A-frame carport faces. The roof panels are designed to let the elements such as snow and rain slide right off the sides without leaking. Luna Metal Buildings includes special trim around the ridge cap and roof, creating an aesthetically pleasing look. This type of roof can be used for carports of all sizes, including those that are more than 40 feet.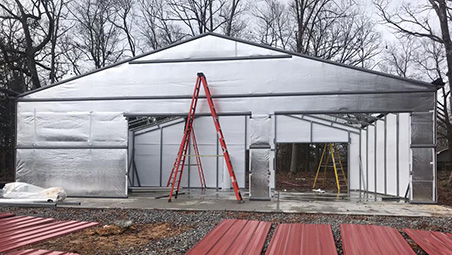 Benefits of Metal Custom Carports in Asheboro

When you choose Luna Metal Buildings for a custom metal carport, you will enjoy lots of benefits. Metal carports are pre-engineered, meaning they are built in the warehouse and then delivered to your home or business. This accelerates the installation process. Metal carports are also easier to maintain, reduce the risk of fire, and can withstand heavy winds and other weather conditions.

Quotes for Custom Carports in Asheboro

Luna Metal Buildings is a locally owned, family-operated business that offers the best competitive pricing. The company offers carports for commercial and residential needs, and it manufactures every unit in-house. Enjoy all the benefits of a custom carport by contacting Luna Metal Buildings today.
"Awesome company to do business with these guys was with me the whole way! Give Luna's a try you will not be disappointed!!!!!!"

– Ken Covington
"
Great communication and customer service, completed the building within the time frame they said they would and it meets the quality advertised, will recommend and use again in the future.
"
– John Brown
"
Luna Metal is top notch in my opinion they installed a 24x26 Wednesday for me and I am very satisfied with my dealings with them from start to finish Frank and the whole staff are awesome to deal with Quality work and cleaned up very well when finished!!! I am truly satisfied with my experience of doing business with them
."
– Dwayne Staley
"These folks are AMAZING, gave me a price, STUCK to it, gave me a time, STUCK to it!
Professional, clean, great work! HIGHLY Recommend!"

– Stephen Newsome
"
We had a barn put by Luna, we are very pleased with the turn out and will be posting up pics soon. Definitely recommend
."
– Minerva Lujano
"Luna Metal Buildings & Concrete LLC put up a 40x80 metal building for me.
Looks great & couldn't be any happier & i highly recommended this company. They were very professional about there work!"

– Tyler Vandiford
"Want to thank everyone at Luna metal buildings for making our dream shop come true, it been a pleasure to deal with this company from grading to concrete to building.
Highly recommend them for anyone looking to get a work shop built"

– Bianca Macedo
"
I had a building Installed Very fast and amazing work done by this company, they were respectful and made sure I was satisfied with everything. Very thankful!!!!
"
– Heather Whitehead
"
The customer service from start to finish was awesome. Very friendly and helpful. They let you know that they appreciate your business and do everything they can to make sure you have no hesitations in referring them to anyone needing a building.
"
– Rodney Byrd
"The job they did for me was small. They are an exceptional company! Very efficient, friendly, polite and kind crew. I would recommend this Company to anyone needing this type of service, no matter how small or large it may be! Luna Metal Buildings are the Best! Thank you Frank and crew."

– Tina Harris